Holiday Recipe Series: Vegan Bowl by Jackie Saland
As part of my holiday recipe series, I am sharing other recipes from food bloggers I really like and follow their creations. This week's guest post / recipe is from Jackie Saland, a Chicago-based actress & model gone blogging. Hope you give it a try!
Cheers - Kamilah, :)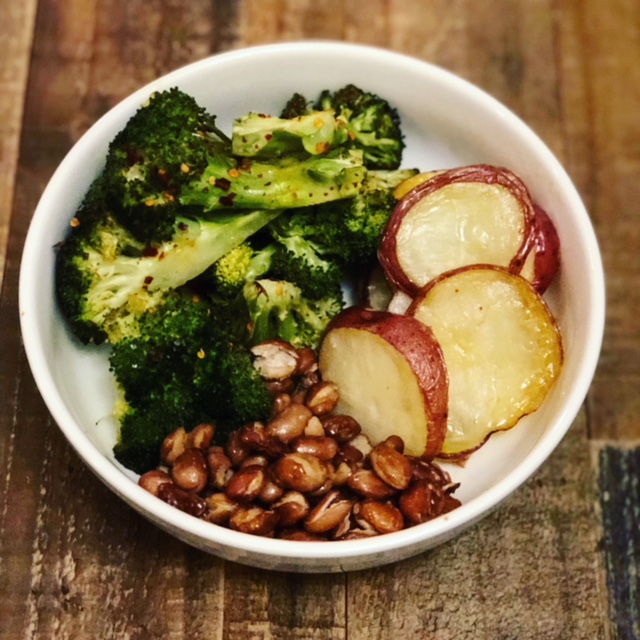 Let me know if you make any vegan bowls you love!
Hi there! I'm currently on a vegan cleanse, and I had to learn how to satisfy my hunger in a healthy, vegan way. I created this recipe as a direct result of that and fell in love with it.
I've never really been in to cooking, but this cleanse has encouraged me to think outside box and get in the kitchen. I saw an opportunity to take advantage of playing with healthy flavors for the fall and ended up pretty satisfied. It's all about trial and error, but this one was great and easy to share with other people.
This easy-peasy vegan bowl is roasted and toasted. Here's what you'll need: Broccoli, Baby Red Potatoes and Pinto Beans!
First, you'll need to preheat your oven to 350 degrees. Then, dice up the broccoli, slice up the potatoes, and rinse the beans.
I'm a fan of throwing them on foil on baking sheets with a drizzle of olive oil. I seasoned the broccoli with red pepper flakes, the potatoes with a little sea salt and the pinto beans with a dash of garlic powder. I'm all about the flavors! Threw them in the oven for 30 minutes (the beans only need about 15), and there you have it, roasted and toasted and delicious!
Jackie Saland has a lifestyle blog that encompasses food, fashion & fun. Follow her Instagram @jackiesaland and her blog xoxojackie.co