#DCGlutenfree: Being Gluten Free in the District
Being gluten free has been a journey, and continues to have its challenges. It's easier when you're cooking at home, and you know exactly what you're putting into each meal. You know it's not cross-contaminated by someone being careless in a restaurant or a friend forgetting you can't grab a crepe every.single.time. However, navigating these social situations gets easier with each experience. You get to know yourself and how your body reacts to delicious, new foods. You learn how to order at restaurants and take note of things that worked and those that didn't. Over time, you truly become a pro - I've been at it for almost 4 years.
But... there's always more to learn.
I moved to Washington, D.C. about a year ago (time flies!). Before that, I was living in Chicago, where I had mastered many of the restaurants and their menus by finding alternatives. I felt really comfortable with my food options while eating out. Once I moved to DC, I knew I had to start all over again and learn the restaurants and foodie scene. Luckily, I found @DCGlutenfree on instagram. I really enjoyed learning the different gluten free finds around the district. After following the account for some time, I realized that it wasn't just finds in DC, but also in NYC and even Maine. I wanted to learn more about the person behind the account, and reached out. I was pleasantly surprised by how helpful and nice she was!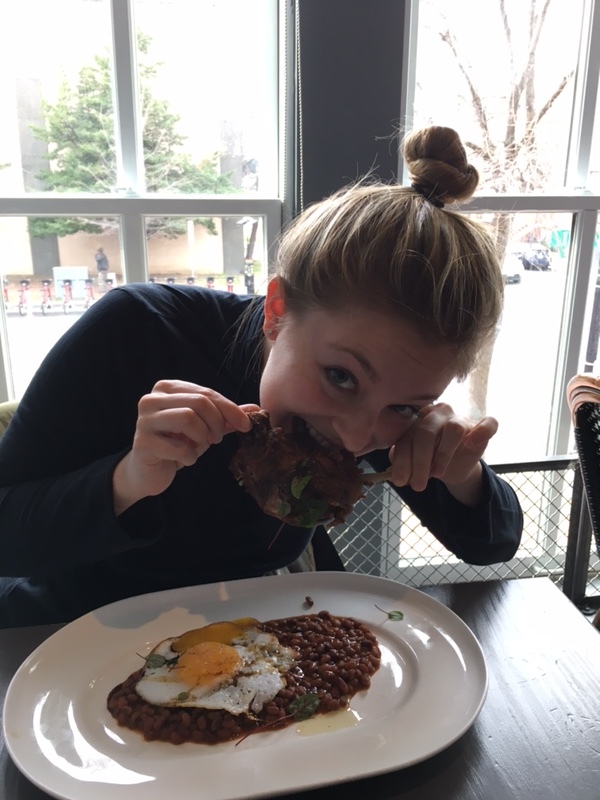 My name is Stephanie, and I have always had a passion for food and cooking, which I learned from my mother's family. As Hungarian immigrants, I think food was used as a way to carry on that culture and tradition once in the United States. I also have a lot of other interests, but keeping up with my favorite celebrity, Harry Styles, probably tops the list.
Stephanie is the woman behind the account, trying new foods across the district and documenting her finds. I asked her more about her gluten free journey and how she ended up being a strong influencer in the area:
Are you from the DC area? If not, what brought you here? I am a DC native! People sometimes tell me that's rare.
Are you gluten free by choice, or does this stem from a medical diagnosis? I was diagnosed with Celiac Disease at the end of 2015, and it completely caught me off guard.
What has been one of your favorite gluten free finds in DC? Rise Bakery has been a huge comfort. Eating from a place where everything is gluten free takes away all of my fears of cross contamination. I can eat any of their delicious goodies without worrying.
What has surprised you the most about sharing your experiences through Instagram? I was surprised by how strong the gluten free community is. I immediately felt like other gluten free people rallied around me and wanted to share their experience.
Where do you find inspiration to post about being gluten free in DC? My inspiration comes out of a place of wanting to make it easier for other gluten free community members to navigate the dining scene. I never claim that what I'm posting is celiac-safe (because there are too many variables each time a dish is prepared). I am sharing the ways that I personally have successfully enjoyed dining out.
What's your favorite go-to recipe that you either made or stumbled upon? I am loving my recipe for GF rhubarb muffins right now. During rhubarb season, I just can't get enough of them, and this recipe is doing it for me.
What has being gluten free taught you thus far? Tolerance! I used to be the person who would roll her eyes if someone followed a gluten free diet without having Celiac Disease. Now that I've actually researched the topic, I have learned about gluten intolerance and other conditions that can be improved by a gluten free diet. Also, I've learned that people really shouldn't waste energy caring about what other people eat! Vegan? Gluten free? Dairy free? Great. You do you.
Where do you see your #DCGlutenFree brand in 5 years? That's hard to say. When I first started DC Gluten Free I didn't know how people would respond or if it would grow. My hope is that it will continue to grow, but in what capacity I'm not sure!